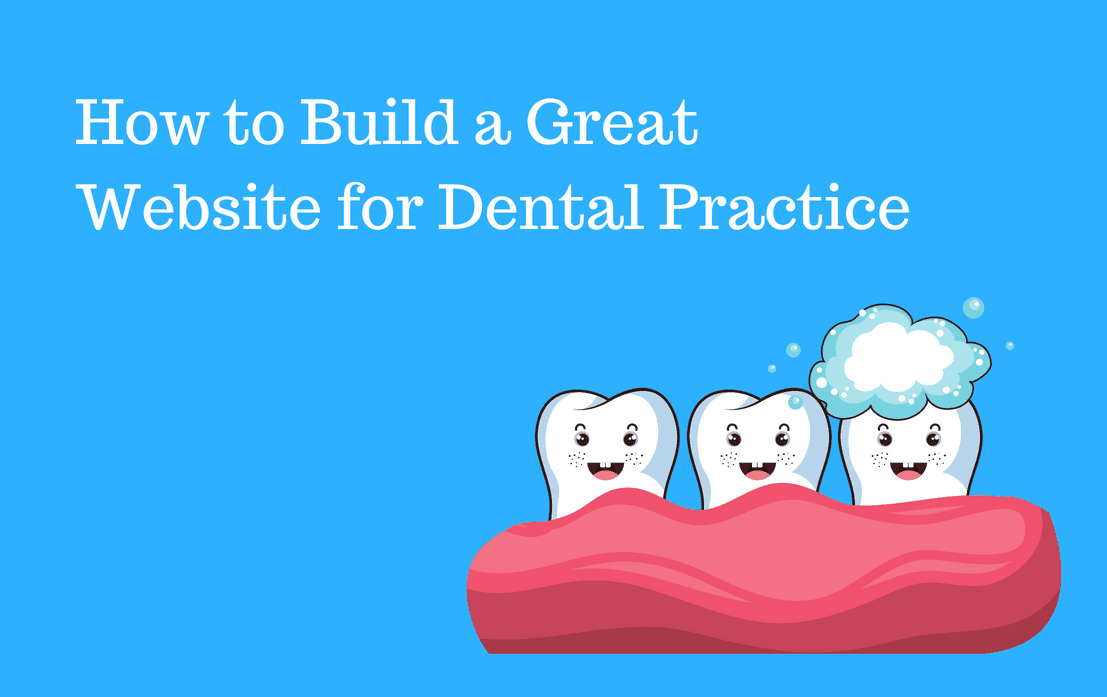 02 Aug

How to Build a Great Dental Practice Website

Don't have a website yet, but considering getting one?

As a dentist, you must have encountered patients who want you to make their teeth "good-looking", but you know for sure that it's not just about aesthetics.

Your patients may have their own personal taste and preferences, but it's you who are aware that you cannot just concentrate only on aesthetics and have to take a comprehensive approach towards the work required by your patients.

Similarly, you might want to build a practice website which "looks pretty" but the fact is that quite often too little thought is given to how the website actually works to attract new patients and encourage them to contact you.

As a successful dental practitioner, your aim is to provide amazing patient care and growing your practice in return.

But as the world of marketing is going online, your twin goals for great patient care and growing your practice can't be accomplished without having a strong online presence.

So neither you nor your website designer can focus only on the aesthetics because you will miss a great many opportunities that could arise if you'd take a more comprehensive approach when researching and building your website.
Why do you need a website?
Let's do some introspection here:
Do you need a website because every other practitioner is having it?
Do you need it because it will add value to your marketing efforts and will be an effective tool for improving efficiency in the foreseeable future?
You may or may not like the internet or might be one of those practitioners who is doing quite well without this "distraction" and pressure to remain constantly online
We have some interesting insights for you-
People need online reviews to make sure you are doing a great job!
77% of patients look at an online review when they are looking for a new healthcare provider, according to a survey by Software Advice For these people, when they look online to research or review a doctor, a practice or a dentist, they find online reviews handy in their decision-making process
Your online presence helps you keep pace with the competition
The nature of your dental practice business is such that it is localized and is highly competitive search engines have made it super-easy for customers to find new dental practitioners
The survey by Salesforce.com reveals that 70% of respondents think that technology has made it easier for them to take their business to new service providers
Several practices would compete with each other to attract patients in small target areas
To remain competitive, you need to have an online presence that outshines competition Think of your site as your new front door- and it will determine whether a prospective patient will come in or heads down the street to your competitor
Your website is the front entrance to your office which will determine whether patients would come in or head straight to your competition across the road.
Think your patients can always call you? Think again!
Getting patients to choose you is only half the battle. When customers have so many options at their fingertips, you have to be on your toes to retain them by providing exceptional services
Your website is your personal digital marketer which not only helps broadcast your online presence but is also considered to be a measure of your competence as a dental practitioner If you want your old clients to keep coming back to you, instead of waiting for them to call and fix an appointment, you could use website to engage them
The same website that helps in holding on to existing patient database also helps in attracting new patients
Last but not the least-Technology is catching up with you!
Yesterday's techniques are redundant today in your practice Dental implants have replaced dentures, and today you can't even imagine not using ozone to disinfect the cavity
How could marketing your dental practice remain old –fashioned?
If these numbers are not enough for you to be convinced about having your own dental practice website, I have one more to add to it
Today, more and more people are looking up online for their medical and health-related queries and checking out practitioners virtually In fact, according to WordTracker, more than a million people searched for " Dentist" or "Dentist near me" in last one year
In the age of the omnipotent Internet, your digital might is an essential part of your marketing strategy and cannot be ignored
It's not about IF you will have a website for your dental practice, it's about WHEN will you have it
The website design process- How to put a great website where your patient's mouth is
Now that we have established that you must have that website and that too, RIGHT NOW, let's break down the process of website design in a few simple steps
Step-1 : Understand what you do; then match it with what you want to achieve
Who is your target customer? Think carefully about what you want from your website And then think about the type of patient you are trying to attract Evaluate what treatments you can deliver to this target customer
You will have to sit down and profile your client base
What are the challenges your target patients face?
What can you do to address those challenges for them?
For example, if your practice is all about replacing teeth for senior patients who have high disposable incomes, your website should reflect the same
If the majority of your clientele is teenagers or young adults coming for orthodontics, you have to share the same in depth with your website designer who might help you in designing a website that helps achieve best possible results
I started with "understanding your customer" as the foremost step in your design process for a reason At any stage, if you feel that your site is all about you, stop gloating right away and move on to next step
Step-2 : It is not about you at all!
Of course, your site is paid for by you and plays a significant part in displaying your knowledge and experience to your online clientele But the primary objective of your (or any other business') website is to help the potential patient understand and realize that they have done the right thing by looking out for you
Your website may attract a great number of visitors, but what good these visitors would do if they don't get converted to leads and eventually sales?
Therefore, your website's focus should be on helping patients finding you as the best fit solution for their dental problem Your qualifications, experience, expertise and client service will play a role only after the patients select you over the next dental practices website
Step-3 : Your website has to multi-task
With 97% of the patients looking out to click than call for an appointment, your website sure has a huge role to play in your practice.
More and more Americans are going online, and your potential patients would have researched treatments, services and assessed you and others in your locality long before they contacted any of you
Capturing a prospective patient early in their decision-making process and convincing them of your services is the key factor in the growth of your business This is how your website plays a role in it
When people search for a dentist your site is looked out by search engines
Your site helps establish trust by showcasing your experience and results
Your site also helps in building your reputation by helping you educate and inform patients
The site is the place where visitors get converted to tangible inquiries
On an advanced level, your site also helps in scheduling appointments, following up with patients and a lot more!
I think I have built enough ground to help you decide why your practice can do much better with your very own practice website
But is just having a website enough?
You need to have an "Awesome" website if you want your patients- and more importantly, patients looking for a new dentist to choose you over one of your competitors
Ask yourself these three questions
How should my practice website look? Design and aesthetics are important, and hence adherence to good web design principles helps ( we go there in depth in a few minutes)
How should "Form Follows Function" – Similar to dental implants if only looks could do everything But you know that is not the case A good website becomes great when design complements and enhances the functionality
How will it benefit end users on both ends – Your clients, as well as your team, should be happy that your practice website is a handy tool that helps you both reach to each other in a productive and mutually benefiting way
Knowing the features that make a good website, a GREAT website and being aware of what not to do, will also help you be better informed and confident when you hire us! ☺
I have discussed the essential features of a rocking website here, make sure you go through it as well
Here is how we would approach your Dental practice website design requirements in order of priority –
1. Homepage/ Landing Page
Your site's homepage is one of the most visited pages and often the first page visitors encounter It should be able to achieve these three goals
Identify visitors' needs- Whether they want to know about a treatment, fix an appointment or just looking for some information, if visitors are not able to get what they need within 5 seconds on your site, they will leave
Stick in their memory- Your practice website is at the core of your online marketing efforts You have to remain in their memory, and for that you need a memorable design Make a lasting impression in their minds
Induce them to take the desired action- Identifying their needs correctly is half the battle If they think and believe you know what you are talking about, they will understand they have come to the right place by visiting your site Making it obvious what you want them to do will help them do it without any second thoughts If you leave them guessing, they might leave your site
Ideally, your dental practice website's homepage should help clients learn that they haven't landed on just another drill-and-fill practice
Focus on what sets your practice apart and mention it in headline Display what you are proud of as the center of your homepage
Without letting them get buried in pages, make sure your homepage is able to fulfill all their requirements-Request an appointment, read testimonials, learn about your team, your services, and even a link to your blog posts, all on the homepage
2. About Us Page
This one is second on the priority list as it is the second-most visited page on any website
More so for your practice website Anyone looking out for someone to take care of the very personal, confusing, difficult and sometimes even a nerve-wracking process like dental care is already on the edge
Having to search for a dentist that will cure their problem only adds to their woes Prospects would definitely be looking out to make a personal connection with you, learning about your education, experiences, professional certifications, awards and honors and even your personal background
Your "About us" page should have these elements :
Photos of yourself and your team with a brief note on what everyone does
Photos /videos of your clinic
Factual details about your professional life
Fun/interesting nuggets from your personal life like hobbies or a social cause you may be associated with
A CTA directing to contact form
Link to testimonials and reviews from satisfied patients
Sure, as a dentist, you know that aesthetics, design and beauty matter as much as functionality And your website content and design element should appeal to the patients you want to attract through your practice website
Modern practice websites will all be about images and less about text For example if you are looking for patients interested in your high-end cosmetic dentistry services, your website should feature high –quality before-after images or videos But if you are servicing the elderly, maybe you can increase the text size a bit to make it easier for them to read
3. Services Page
This page describes your specialties and services offered A great services page should answer these questions:
What is the service?
Whom is it suitable for
What unique add-ons and benefits your practice offers?
What should be the next step for the clients? (call, email, schedule an appointment online)
Services page should be able to distinguish you from the rest of the practices in your area of operation
Whether you want to focus on cosmetic dentistry, or enjoy working with children or offer pain-free laser periodontal treatments, your services page should explain each aspect of your offerings in details as well as announce how you do a better job than other dentists in your area
Here is a tip, instead of going for a single page describing your specialties, use one page to focus on each service This way, you optimize the website for search engines as well as can focus on target marketing and online advertising as and when needed
Each services page should have
Explanation of a service in engaging words
USP of your services- the great ambiance of the clinic, pain-free laser treatments etc
Testimonials with pictures from satisfied clients
Remember to keep one style for all the services page You do not want readers to get confused with different paging styles Stick to a common layout throughout the services pages to provide a consistent browsing experience
4. Contact Us Page
I can't stress enough why your website should be mobile friendly, nothing will need it more than your "Contact Us" page
The ultimate goal of your website is that the clients reach out to you If your practice targets a particular area, for example, a button that reads " We're right in the middle of Portland!" may be a good idea
Because in the end, all that matters is how many leads you generated through your website, right?
Your contact us page should give the following information
Your practice location
Business hours
Address with an embedded map to locate easily
CTA with a contact form for visitors who connect to seek appointment or clarifications during off business hours
Your multiple contact points- email, a phone number, a click-to-call link
A simple but fully functional responsive experience which is suitable for all screens with any resolution will fetch the best results for you
Your website design should not stand in the way of people who wish to contact you Clear headings with easy-to-use clickables and contact forms will make it easy for your prospects to navigate and more importantly, reach out
5. Testimonials/ Reviews Page
You went ahead with your decision for the best chair based on reviews by your peers Your clients are no different A collection of great testimonials is the best way to announce your dental practice
Reviews instill credibility, help establish your brand and build trust, all essentials for a successful dental practice
Testimonials page needs to have these features:
A mix of text, picture and video reviews which are short and to-the-point
Reviews should highlight your work, professionalism in a concise manner
For reviews, consider linking to your Yelp, Google, Health-grade etc because the reviews on third-party sites are favored more by new clients
6. Contact forms and CTAs
The best thing about contact forms is that they are working when you probably aren't
Your existing clients may know how to reach out to you, but think of the new dental patient who can bring great lifetime value with new referrals he might bring in
Contact forms and CTAs that can help you in getting details from clients so you could reach out to them can help you bring new patients
It's up to this page to compel visitors to pick up the phone and schedule an appointment Adding buttons like a "complimentary consultation" or "schedule your regular checkup" displayed prominently on your homepage as well as on other pages compels patients to make the first move
Offers go a long way too! For example, you can offer a free cleaning service or a free X-ray for the first exam if they leave their contact details on your site has more potential to generate new business than your print advertisement at probably half the cost
Contact forms should be eye-catching, clear and concise for the audience to get attracted and keep reading To enhance the effectiveness, keep experimenting with different focus groups at different times and see which strategy brings you the most hits
7.Online appointment scheduler
Nothing could explain a win-win situation better than this one Your staff can spend less time glued to the phone scheduling appointments Your clients can request appointments wherever and whenever its convenient for them, without the need to make a phone call in your business hours
Remember to use only the information that you need Too lengthy a form and you risk clients leaving it midway
Delay in loading and you can expect more than 50% of your visitors turning away
Think about going automated It could help you in showing available appointment times as well as helping people contact you in case of an emergency You can also send an automated email confirming their appointment These are some of the ways an automated appointment system integrated into your website can help you
Automated appointment reminders
Missed appointment notifications
Collections follow up
Post appointment surveys
8. Online Payment Page
Imagine how frustrating it would be to find a dentist which a client thinks he'll love, schedule an appointment, visit the clinic only to discover that you don't accept his insurance Specifying accepted payment methods is the main feature of your online payment page on your practice website
Stop the frustrations before they start, minimize the time wasted by your front office staff explaining various payments methods and policies your practice accepts and follows
A clear, unambiguous form that specifies accepted payment methods, types of insurance accepted and not accepted and should have some FAQs answered- for example-
Do you accept Medicaid or your state's low-income health care plan?
Do you accept credit cards? What about CareCredit?
Do you offer payment plans for high-cost treatments?
Do you have a patient credit plan?
Do you have a patient financing system?
9.Blog Page
A blog page should have blogs that are fun to look at and read with a beautiful image and a short, enticing summary encouraging readers to read the whole post
The blogs can provide valuable information, comparative charts of various procedures, etc in a visually appealing way to your readers
You can build a connection with potential patients using a blog that compels visitors to read and browse
If you're not a writer who is accustomed to creating persuasive content, this is an area best left to experts
Now that we have sorted what should go on your practice website, time now to follow some design principles as I promised earlier
Design Principles for a Dental Practice Website
Friction –Less User experience – Glitzy websites with a lot of pop-ups, flash
videos and slow to load Do this and lose the client at the speed of light Make the visit to your website a completely painless process Good speed, clean content, clear navigation helps convert a visitor into a lead Search Engine Optimization – SEO – To help users find your website, you need to make sure it is ranked high in Google Understand SEO, budget for it and we have some best SEO practices lined up, just for you
Engaging content – No two patients are alike, and the procedure that works for one, may not work for the other And so does content on your practice website You can't afford to use generic texts, and you have got to be more creative than the previous website in describing similar services and dental treatments You are a problem solver for your patients, use content to reinforce this belief
Keep it Simple – Don't go all flashy and designer Your website is for your patients, and use high quality, modern design instead of too many "bells and whistles" that block the functionality You have to find a balance between form and function when it comes to website design
Clear CTA and contact information – Easy access to all the contact information will improve your chances of visitors contacting you Configure your calls-to-action according to what you want a potential new patient to do
Be sure to be Mobile Friendly – It could be really frustrating to look at a squished out version of your website on a different screen Make sure your website looks great on all kinds of devices with any resolution
Stay updated and relevant – Broken links, old information, no links to social media, these all could bring down any great website You don't want your visitors to think you are slow, frustrating and out-of-date Keep it updated, always
Get hooked to social media – Your dental practice blog, website links, landing pages, can all do better with social media channels like Facebook, Twitter, and YouTube Social media helps patients to connect with your practice and learn about the services available in a creative manner
When a patient looks out for dental care, they are making a crucial decision Unlike many businesses, there is a certain finality to it with little room for error You can test drive a car, but not a root canal treatment by a dentist, after all
If you don't stick to a website that helps patients make right decision and choices they feel good about, chances are they won't recommend you to others Your website has to help you build and sell trust It is the first contact your patients have with your practice
First impressions matter as much in a dental practice website as they do in cosmetic dentistry Design a website that motivates people to take the first step and call you to learn more about the practice and schedule an appointment
Your website is your best, and probably the only opportunity –outside of a face to face discussion – to communicate what your dental practice stands for, how it is different from competitors Make sure it has the right elements that make your online prospective patients choose you
What to do next?
Check out these awesome themes for dental practice websites that we have lined up just for you at Website Klub!